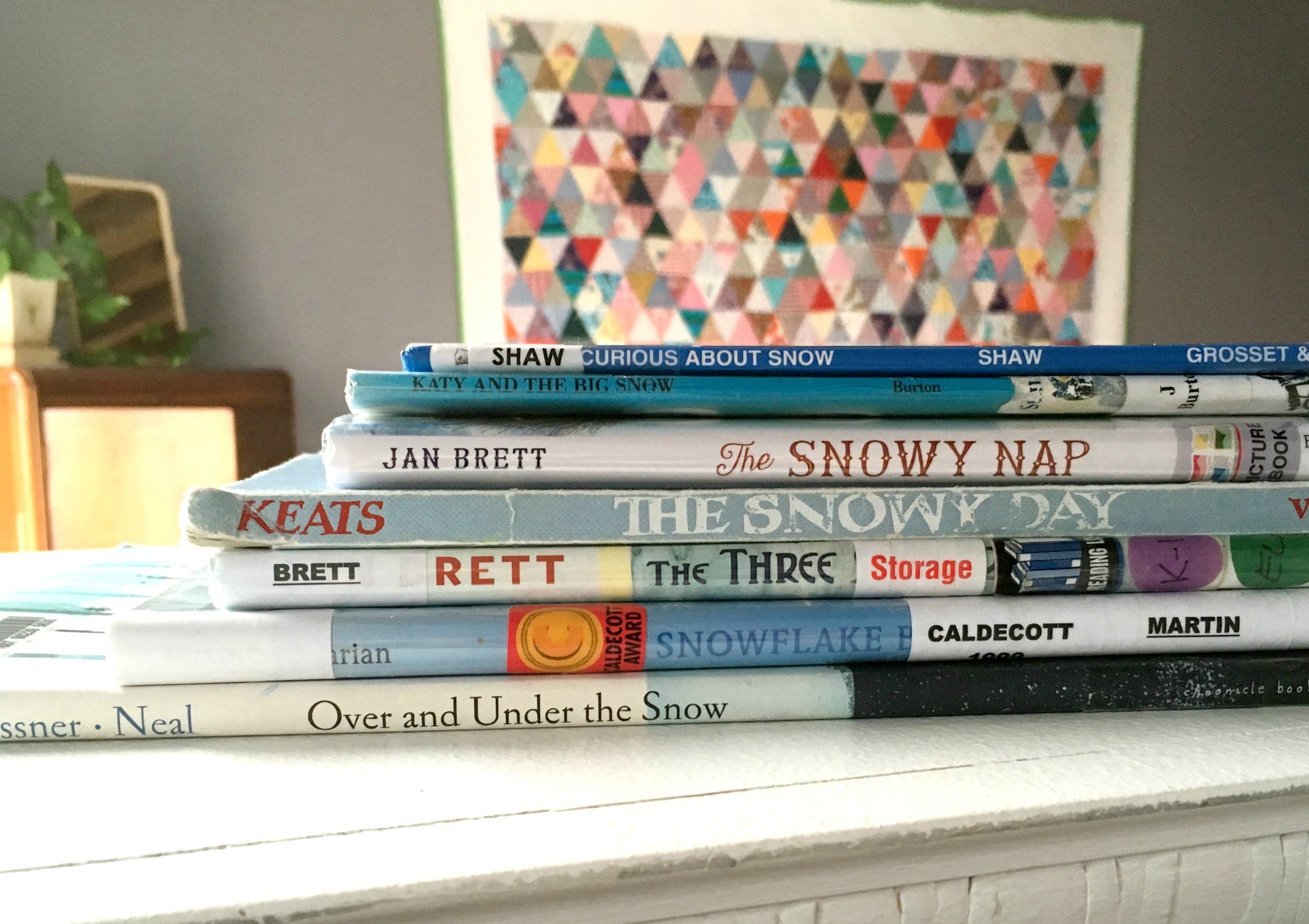 Thankfully we didn't get hit with the polar vortex as heavily as some of our Northern friends, but we've still had plenty of opportunity to cozy up with a pile of wintry picture books. Here are the ones that always seem to rise to the top of our winter read-aloud stack.
Over and Under the Snow by Kate Messner
This beautiful book shows what our animal friends are up to in winter, both above ground where we can see them and hidden away beneath the snow. Darling illustrations accompany Kate Messner's poetic storytelling, and there's a handy section at the back giving you facts about each animal encountered for your more scientifically minded kiddos.
Snowflake Bentley by Jacqueline Briggs Martin
I'm captivated just as much as my kids are by this inspiring story of a young Vermont boy who longed to capture the exquisite beauty of the snowflake through the lens of his camera. While his parents easily could have directed him toward more practical pursuits, they supported him in his tireless exploration of both the art and science of the snowflake. His story is accompanied by lovely wood-cut illustrations that capture the wonder of this fascinating man's life.
Which reminds me - I've been meaning for years to take my kids to the
Snowflake Bentley exhibit
in Jericho, Vermont. Maybe this will be the year we finally make this literary field trip happen!
The Snowy Nap by Jan Brett
I've yet to be disappointed by a Jan Brett book, and her newest offering is no exception. When Hedgie the Hedgehog hears all the other animals on the farm talking about the fun they will have over the winter, he decides to stay awake instead of hibernating. This of course presents some challenges for the sleepy little Hedgehog. Your littles won't be able to resist the lavish illustrations and the adorable hedgehog's antics.
The Three Snow Bears by Jan Brett
There are lots of other winning winter-themed picture books by Jan Brett (The Mitten probably being the most well-known), but our perennial favorite is The Three Snow Bears, a retelling of Goldilocks and the Three Bears starring the Inuit girl Aloo-ki who loses her sled dogs and takes shelter in an igloo inhabited by three polar bears. I'm sure you can guess what happens next!
The Snowy Day by Ezra Jack Keats
My urban-dwelling kiddos feel such a sense of connection with Peter as he explores the familiar landscape of his city with new eyes after it is blanketed with snow. This 1963 winner of the Caldecott medal is an enduring classic for good reason.
The Story of Snow: The Science of Winter's Wonder by Mark Cassino
This book will satisfy your children's curiosity about snow while fueling their sense of wonder with enlarged photographs of real snow crystals in all their breathtaking splendor. Questions like 'How do snow crystals form?' and 'Is each snow crystal really unique?' find their answers in this book.
Winter Story by Jill Barklem
Our family has fallen in love with the Brambly Hedge series, but this title is especially cozy. It invites you and your children into the miniature world of the mice of Brambly Hedge who celebrate being snowed by hosting a Snow Ball under the frozen drifts.
Katy and the Big Snow by Virginia Lee Burton
When the brave snow plow Katy finds her town in rendered helpless by a snowstorm, she tirelessly gets to work unburying the town. We were excited to discover that Virginia Lee Burton lived for a time in the seaside town of Gloucester which we frequently visit as a family and that she based the layout of Katy's town on this familiar city. This is probably the wintry picture book we've reached for more than any other over the years!
Does your family have a favorite winter-themed read aloud? We'd love to know which titles are most treasured in your home!