I've gotten into a great reading rhythm this summer: a chapter of an inspirational book with my morning quiet time, a non-fiction book tucked into my bag to sneak in during the cracks of the day, and fiction or memoir before bed. Apparently I'm in
good company
. This month I finished a slew of truly lovely books that I'm happy to share with you.
In my early morning, inspirational reading:
The Eternal Current: How a Practiced-Based Faith Can Save Us From Drowning by Aaron Niequist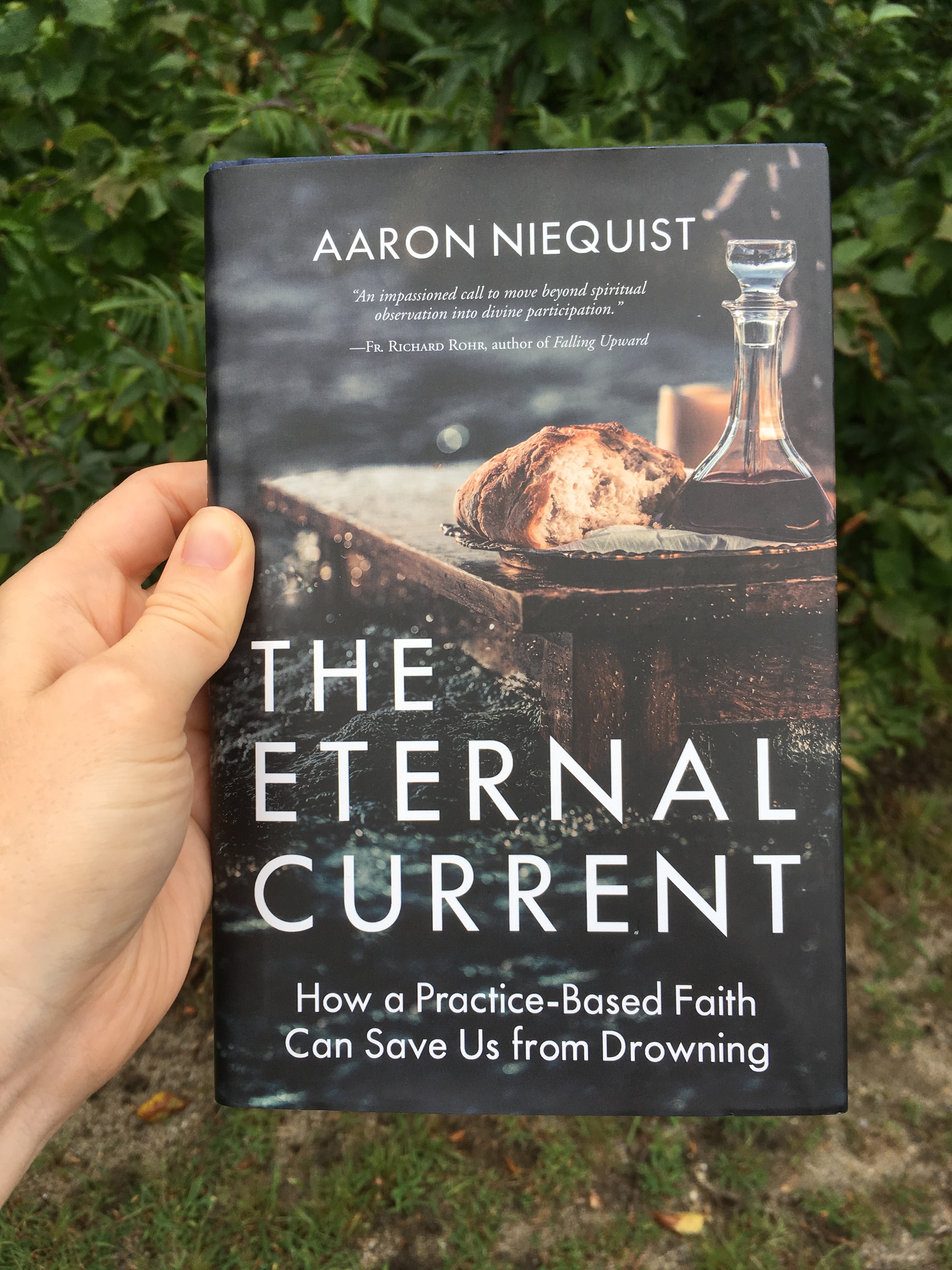 A great and mighty River flows throughout history toward the healing and restoration of all things. Jesus called this the kingdom of God, where what God wants to happen happens. But he didn't say, "Believe about this River." He invited us to join him in it and to learn how to swim with the Current for the sake of the world. The River is a place not of self-actualization but of relationship. We can't fix ourselves to please God, but we can join Christ and get swept up in God's good pleasure to heal the world and us. The invitation is participation. You and I don't need more ideas or complex philosophies. We need to put the ideas we have already learned into practice. We need to get into the River. Let us wade in with Christ, learn to swim with God's Eternal Current in each moment, and be transformed for the sake of our lives and the sake of the world. This is a practice-based faith. And we're all invited.
This book came into my life at the perfect moment as our family is exploring a more liturgical expression of faith. Niequist argues that our American church culture has focused far to much on getting people to assent to the right beliefs, and not nearly enough on inviting us to embody the right practices. He gives beautiful examples of how his faith community has applied the ancient practices of our faith to our contemporary context. I've loved doing some of these practices with my kids; I shared a little bit about this
here
. I'm also enjoying expanding my definition of what constitutes a daily quiet time. Those of us in the church tend to have a pretty narrow definition of what daily devotions should look like, but Niequist invites us to add a few more tools to our tool box of spiritual disciplines - tools like centering prayer, forgiveness, celebrating liturgical holy days, listening, and confession.
The Read-Aloud Family: Making Meaningful and Lasting Connections With Your Kids by Sarah Mackenzie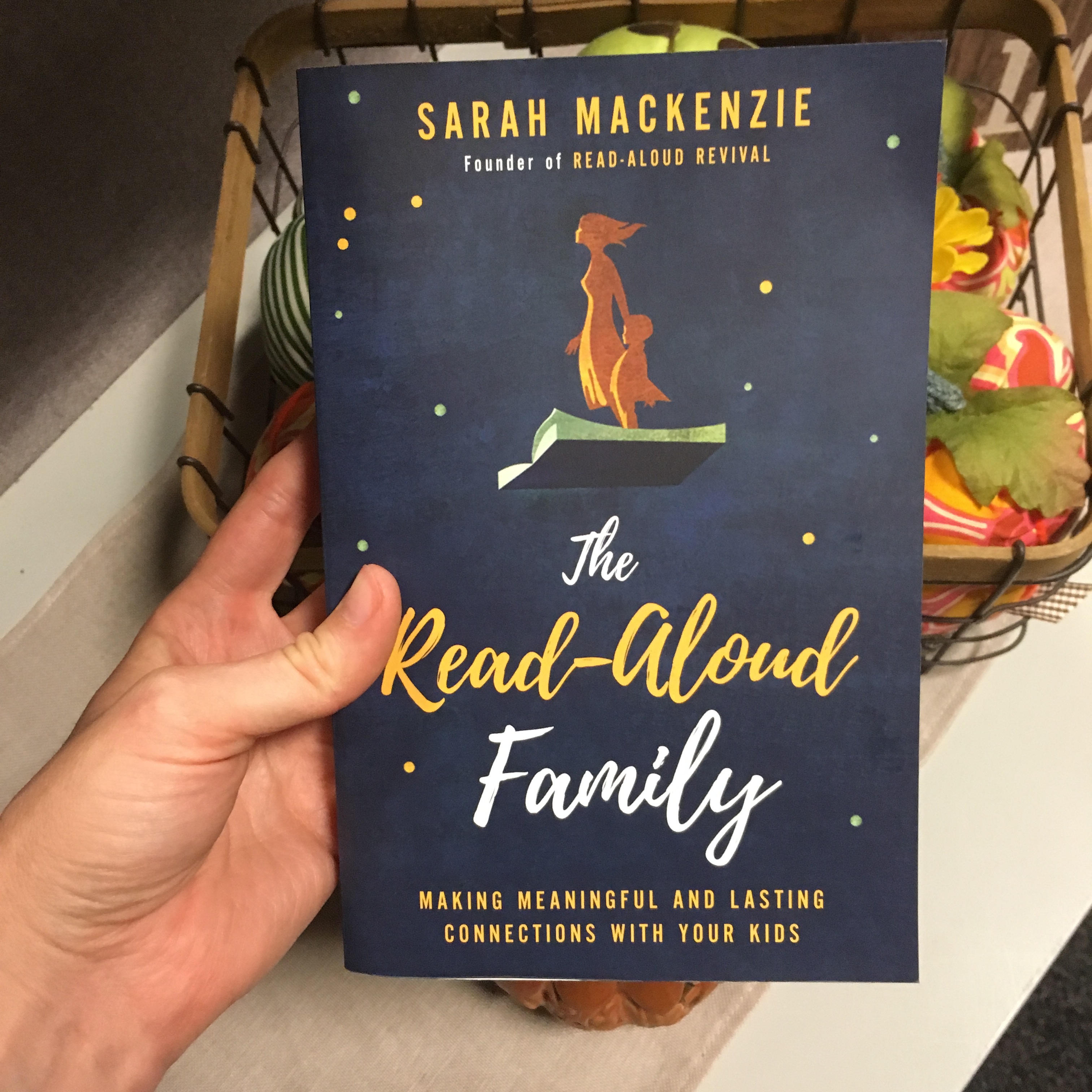 Even more important than teaching our kids the actual skill of reading is to cultivate a deep love of stories. After all, a child must love reading if he is to do it of his own volition throughout his life. When we focus on nurturing our children's love of stories, we get both kids who can read as well as kids who do. Reading begets reading. A child who loves to read does so voraciously. This is an academic gain that can hardly be replicated in any way except by cracking open the spine of a good book and getting lost in it.
I love reading, and I love reading aloud. It's my favorite thing to do with my kids. So I suppose it comes as no surprise that I love this book! I've long been a fan of Sarah Mackenzie's podcast and blog,
The Read Aloud Revival
, and even though I knew I would love this book, I was delighted to find plenty of new surprises tucked in the pages of her booklists. She not only includes some of the typical read aloud standbys, but she also points her readers toward some wonderful contemporary fiction. I highly recommend this book.
For my throughout-the-day nonfiction reading:
Balanced and Barefoot: How Unrestricted Outdoor Play Makes for Strong, Confident and Capable Children by Angela J. Hanscom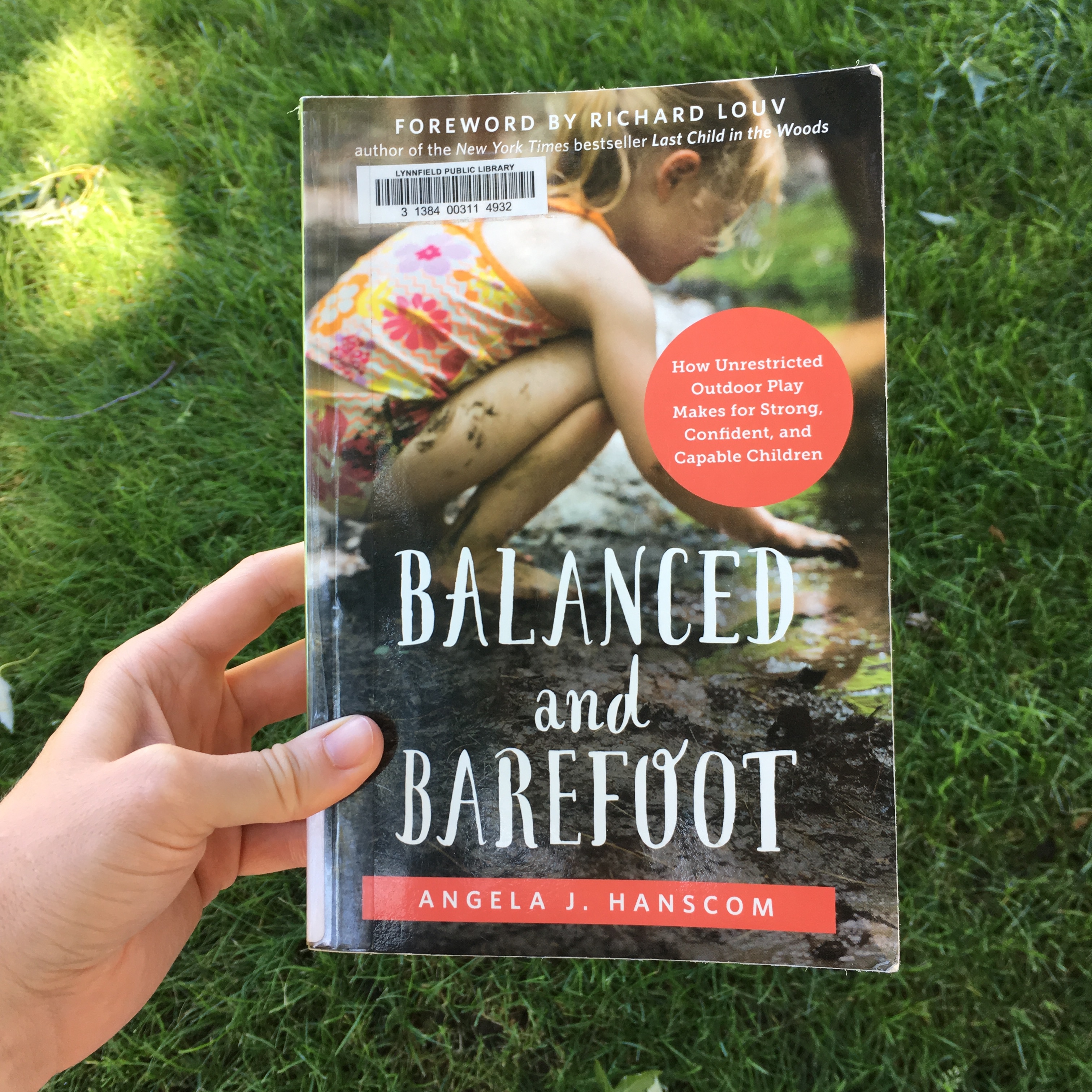 Active free play is a kind of play that promotes healthy sensory and motor development in children. It is the antidote to your child spending hours indoors and staring at screens, and to you as a parent being too busy and overscheduled with kid activities to enjoy parenting. The outdoors awakens and rejuvenates the mind and engages all the senses at once. In nature, children learn to take risks, overcome fears, make new friends, regulate emotions, and create imaginary worlds. It's important that adults allow children both the time and space to play outdoors on a daily basis. It's important that we give them the trust they deserve and the freedom they need to try out new theories and play schemes. This book will reveal the therapeutic importance of outdoor play and will equip you with a multitude of ways to foster healthy child development through outdoor play experiences.
I've been drawn to free, unstructured time outside for as long as I can remember - from the unrushed summer days of my childhood exploring the fields and forests of rural Michigan on horseback, to my college days when I wandered barefoot through campus, barely wearing shoes unless the winter weather or the dining hall staff compelled me to. But I never knew there were so many benefits to this way of moving in the world. The author makes a strong case that children today are deprived of the sensorimotor stimulation they need to develop properly physically, mentally and emotionally because we've deprived them of the opportunity for unstructured outdoor play. My eyes were opened to the ways today's children are lagging behind their counterparts in previous generations. This book invigorated my determination to give my children as much free time outdoors as possible.
Born a Crime: Stories from a South African Childhood by Trevor Noah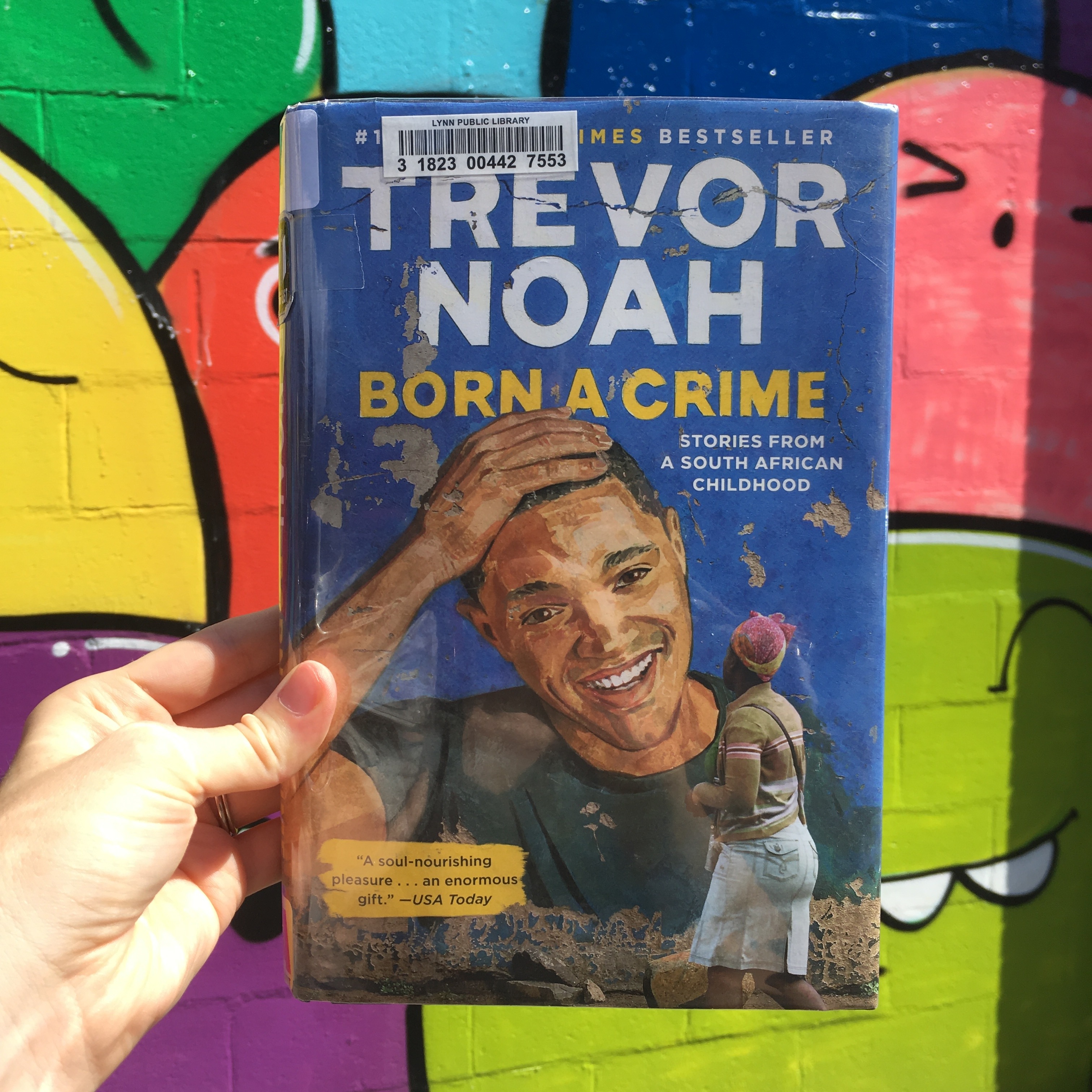 Whenever the riots broke out, all our neighbors would wisely hole up behind closed doors. But not my mom. She'd head straight out, and as we'd inch our way past the blockades, she'd give the rioters this look. Let me pass. I'm not involved in this shit. She was unwavering in the face of danger. That always amazed me. It didn't matter that there was a war on our doorstep. She had things to do, places to be. There could be five hundred rioters with a blockade of burning tires on the main road, and my mother would say, "Get dressed. I've got to go to work. You've got to go to school." "But aren't you afraid, I'd say? There's only one of you, and there's so many of them." "Honey, I'm not alone," she'd say. "I've got all of Heaven's angels behind me." "Well, it would be nice if we could see them," I'd say. "Because I don't think the rioters know they're there.
In this memoir Daily Show comedian, Trevor Noah, describes his coming of age in the wake of apartheid. Born to an illegal union of parents of different races, Noah grows up not fitting into any of the racial categories defined by the apartheid regime. This results in both humorous mishaps and heartbreaking abuse. Noah describes the complexities of his upbringing with insight and wit. This book was equal parts eye-opening and entertaining.
My bedtime fiction reads:
Bel Canto by Ann Patchett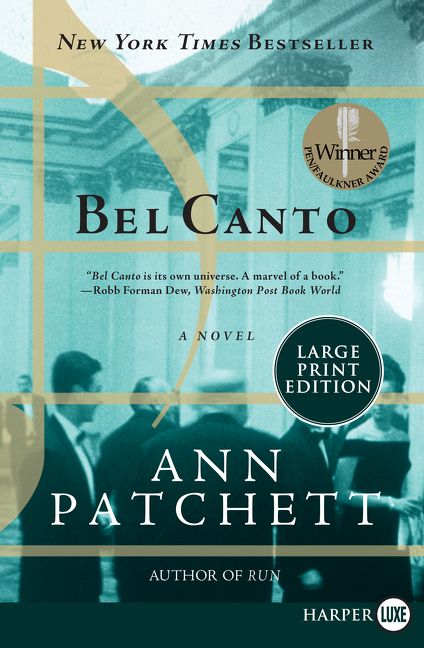 In an unnamed South American country, a world-renowned soprano sings at a birthday party in honor of a visiting Japanese industrial titan. In the opening sequence, a ragtag band of 18 terrorists enters the vice-presidential mansion. Their quarry is the president, who has unfortunately stayed home to watch a favorite soap opera. Thus, from the beginning, things go awry. Among the hostages are Russian, Italian, and French diplomatic types. A Swiss Red Cross negotiator comes and goes, wrangling over terms and demands. Days stretch into weeks, weeks into months. Joined by no common language except music, the 58 international hostages and their captors forge unexpected bonds. Time stands still, priorities rearrange themselves. Ultimately, of course, something has to give.
I've loved some of Ann Patchett's other books, but this one left me seriously disappointed. It took awhile for the story to get off the ground, with most of the first 100 pages delving into the obscure world of professional opera. By the middle of the book, the relationships between the characters, and especially between the hostages and their captors, were weaving together into some very interesting plot lines. I enjoyed the middle of the book immensely. With suspense building on every page, I was hopeful for an original, and not-too-bloody resolution. I absolutely hated the book's ending. As I reflect further, the beauty and longing captured in the middle of the book does overshadow the awful ending in my memory, but I would have much preferred a different conclusion to the story.
The Nightingale by Kristin Hannah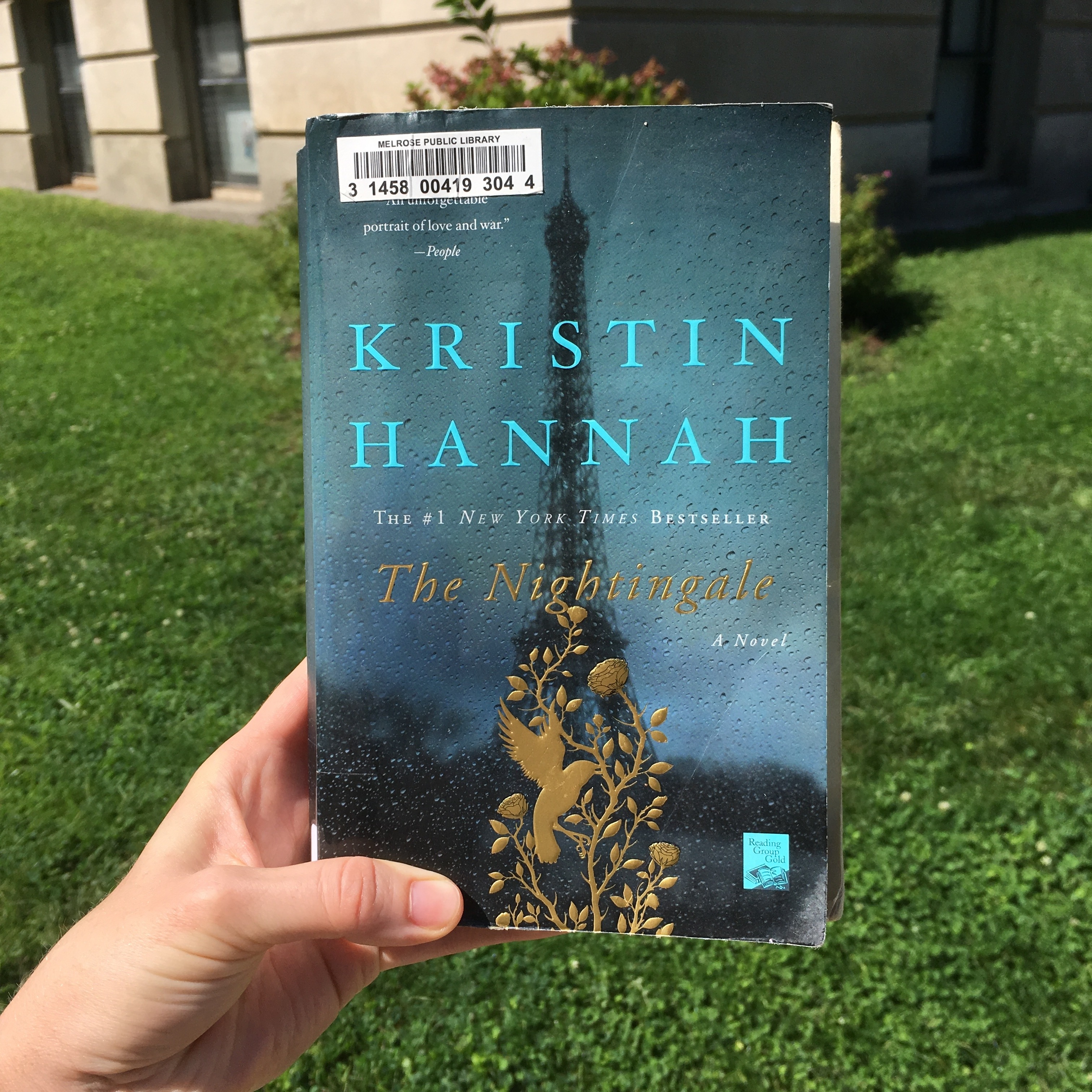 In the village of Carriveau, Vianne Mauriac says goodbye to her husband, Antoine, as he heads for the Front. She doesn't believe that the Nazis will invade France, but they do. When France is overrun, Vianne is forced to take an enemy into her house, and suddenly her every move is watched; her life and her child's life is at constant risk. Without food or money or hope, as danger escalates around her, she must make one terrible choice after another. Vianne's sister, Isabelle, is a rebellious eighteen-year-old girl, searching for purpose with all the reckless passion of youth. While thousands of Parisians march into the unknown terrors of war, Isabelle races headlong into danger and joins the Resistance, never looking back or giving a thought to the real - and deadly - consequences.
It feels like there is no end to the World War II novels these days, but for me this book stands a bit above most others. Nightingale contains romance, subterfuge and suspense, but what really makes it special is its portrayal of the wartime experience of the women and children left behind when the men of France left for war. I see some similarities to my very favorite tale set in this time period,
All the Light We Cannot See
by Anthony Doerr, with its back and forth sequencing between the past and the modern day. This book left me with a renewed sense of awe and respect for the courage of those who endured this brutal period of our history.
Our current family read-alouds:
The Mysterious Benedict Society and the Prisoner's Dilemma by Trenton Lee Stewart
Join the Mysterious Benedict Society as Reynie, Kate, Sticky, and Constance embark on a daring new adventure that threatens to force them apart from their families, friends, and even each other. When an unexplained blackout engulfs Stonetown, the foursome must unravel clues relating to a nefarious new plot, while their search for answers brings them closer to danger than ever before.
Our whole family has been completely taken in by these clever stories of four exceptional children on a mission to save their town from the dangerous villain plotting to destroy them all. Everyone from the wiggly five-year-old to my dear husband who supposedly "hates" reading is entranced by this series. The above book is third in line, and when we get through all four, the seven-year-old is already begging to start over at the beginning again. These books remind me a little of the fiction of Roald Dahl with their British flavor and dry wit, but instead of Dahl's dark sense of humor, these books are have a delightful tone of friendship, teamwork and truthfulness. Highly recommended.
The Story of Doctor Dolittle by Hugh Lofting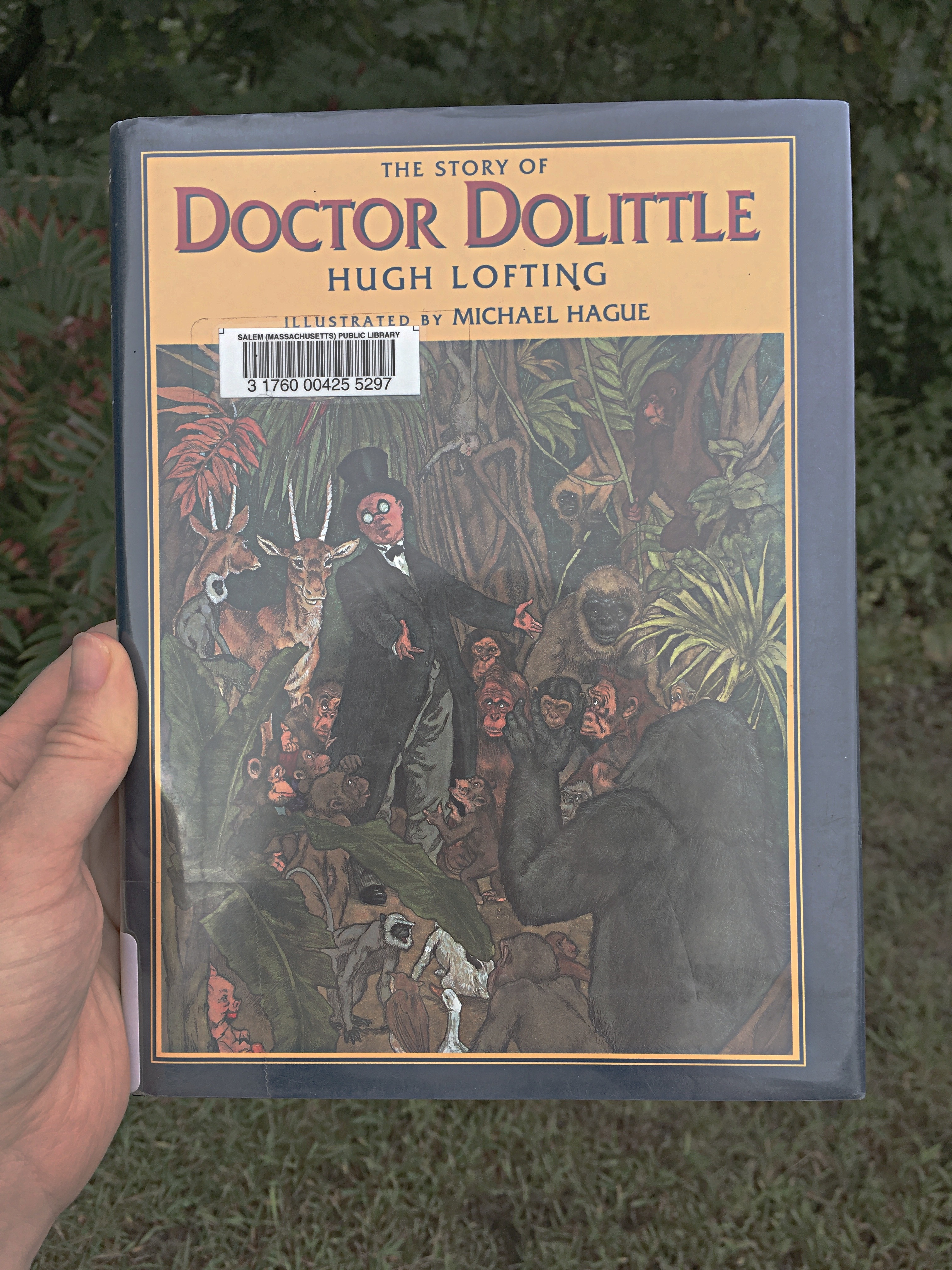 When a swallow arrives with the news that the monkeys of Africa are ill and only the doctor who talks with animals can save them, Doctor Dolittle and his animal friends face their greatest challenge. Together they must sail to Africa, battle a band of cutthroat pirates, flee across a gorge on a bridge made of acrobatic apes, and convince the king of the beasts that even he must help an animal in need.
I had never read this series until recently. Evidently there are twelve books in total, originally taken from the illustrated letters the author wrote to children from the trenches of World War I. When I saw them on Ambelside Online's
reading list
for second grade, I decided to give them a try, and the kids have been very happy with that decision. Chapters are short with a lot of action to keep the story moving. My audience almost always begs for an encore when we finish our first chapter of the day. Perfect for the animal-loving littles in your life.
Picture Books - If you're looking for kid reads with strong girl characters, we discovered some great ones this month!
One Word from Sophia by Jim Averbeck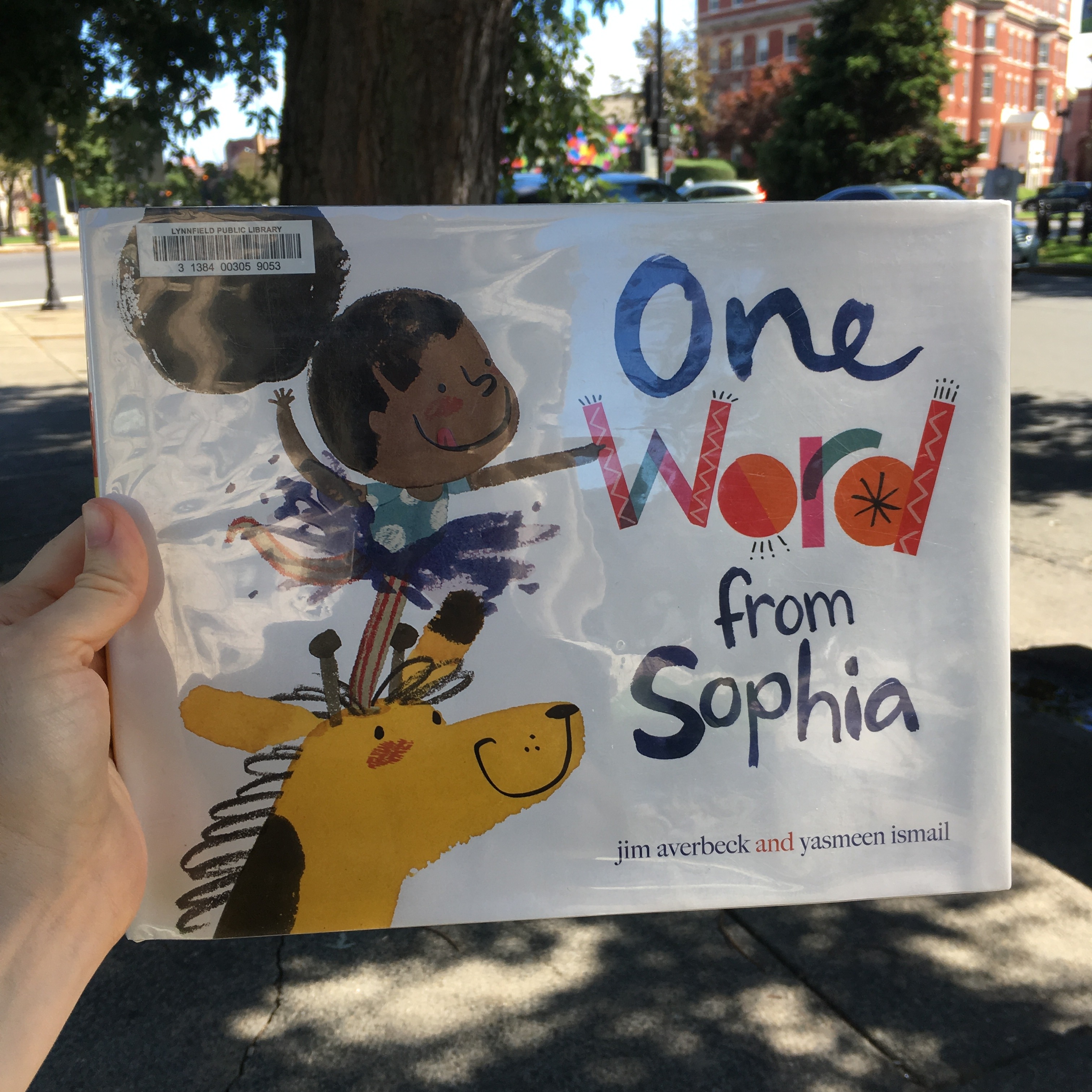 Sophia's birthday was coming up and she had five things on her mind - One True Desire and four problems. Her One True Desire was to get a pet giraffe for her birthday. The four problems were Mother, who was a judge, Father, who was a businessman, Uncle Conrad, who was a politician, and Grand-mama who was very strict.
I just stop recommending this book! I've been reading it non-stop to my favorite five-year-old for weeks, and I'm not even beginning to get tired of it. There's so much to love here - a biracial family, a strong girl protagonist who is wicked smart and doesn't back down even when the adults in her life try to extinguish her enthusiasm for her One True Desire, a fabulous vocabulary, sweet illustrations, a happy ending, and humor that leaves me laughing out loud even when I know what's coming. The perfect book for cuddling up with your favorite kiddo!
Kate Who Tamed the Wind by Liz Garton Scanlon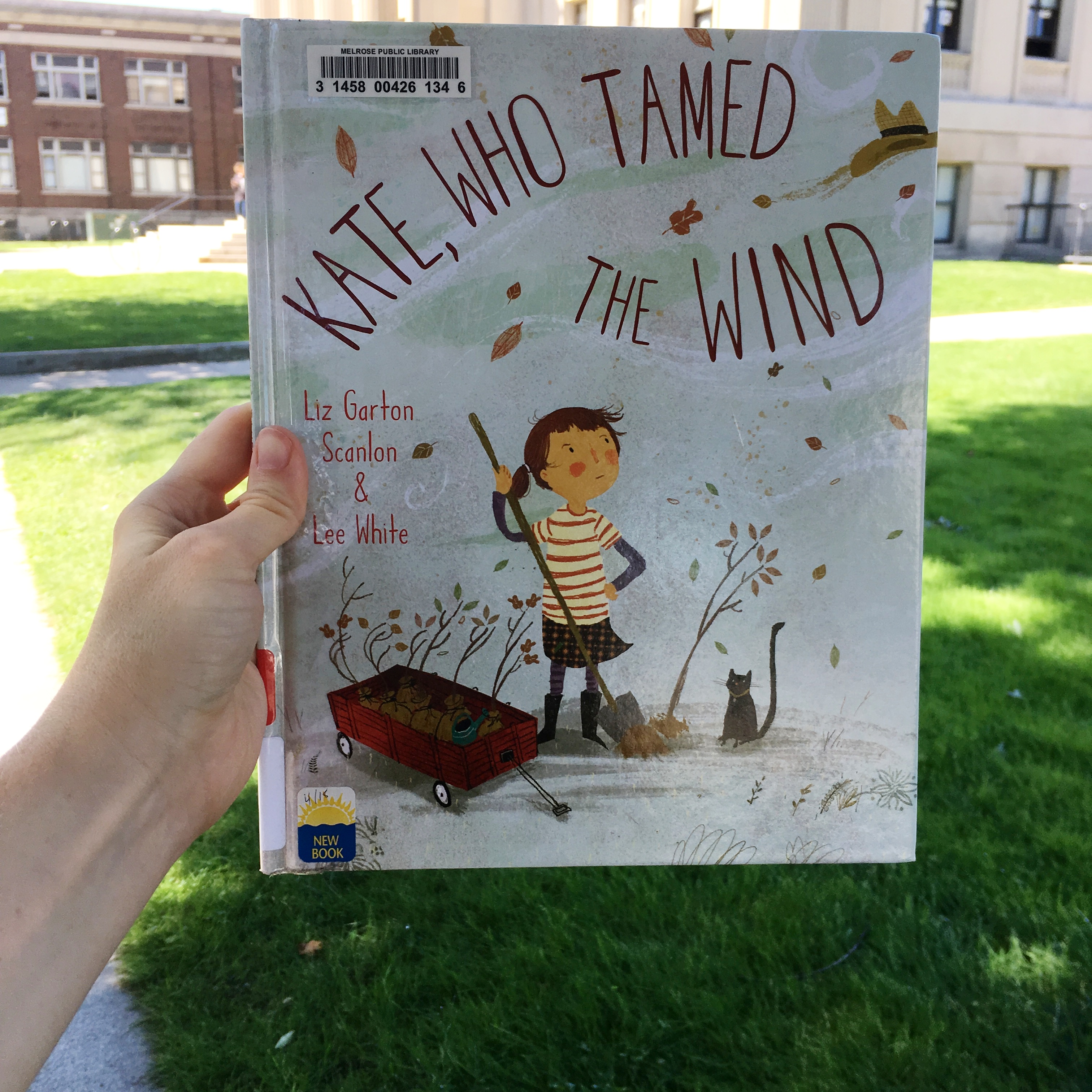 Once there was a man living all alone in a creaky house on the tip-top of a steep hill. The man lived all alone in the creaky house on the tip-top of a steep hill where a soft wind blew.
So begins this sweet story of intergenerational friendship and creative problem-solving. Kate comes to the aid of an old man whose house is being ravaged by the wind and rescues him by planting trees to protect his property. There is a not-so-subtle moral about the importance of caring for the earth, but what really stands out is Kate's intelligence and the way she uses her knowledge to help others. An empowering read for girls of all ages.
Lola Dutch by Kenneth Wright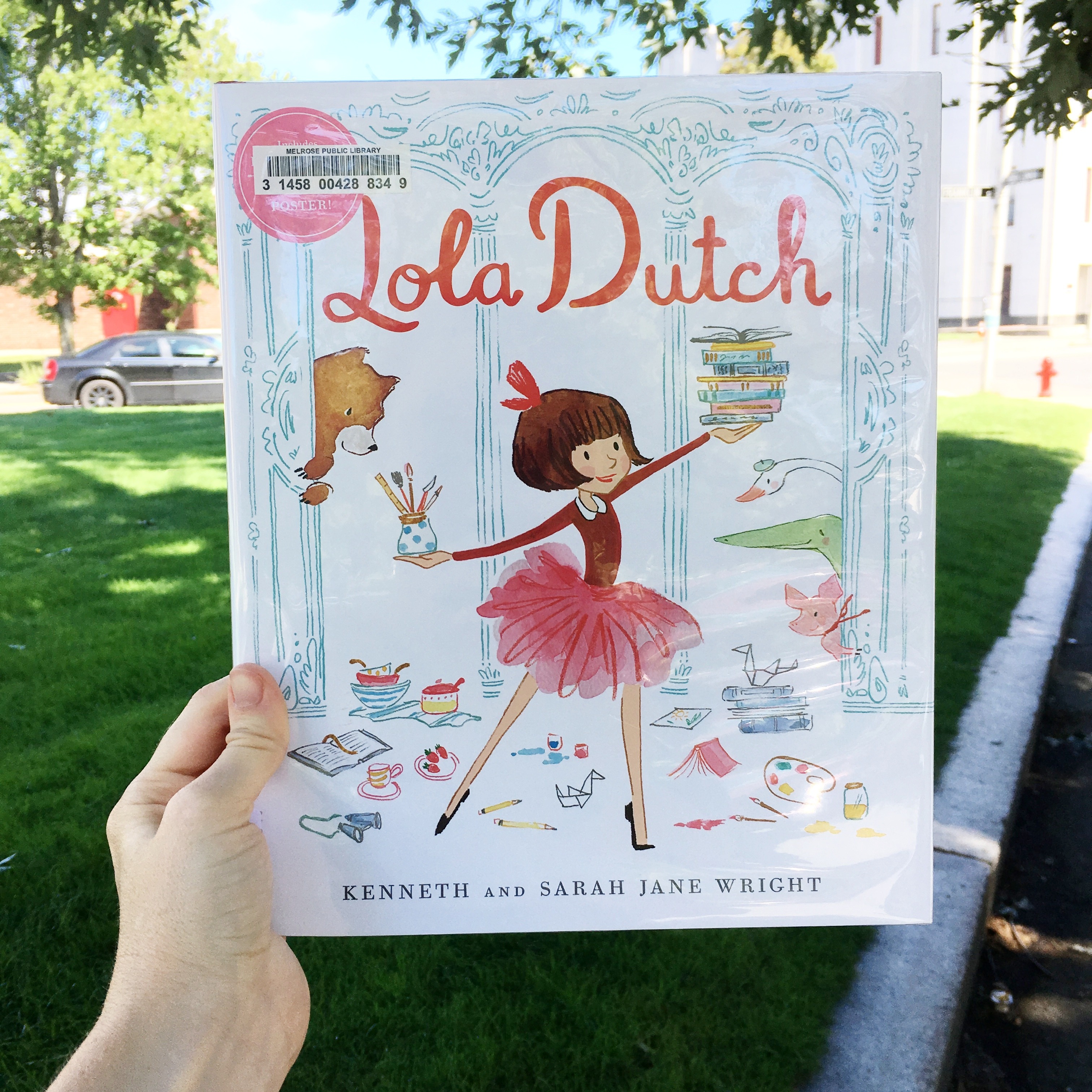 This is Lola. Lola Dutch. Lola Dutch is a little bit much.
If there's a child in your life who's a little bit much, this is the book for you! Lola is a girl with big ideas. For her mild-mannered companion, Bear, Lola's imagination and unpredictability can be hard to handle, but even Bear appreciates the fun and adventure she brings to those around her. A lovely story to wind down your little one at the end of the day and reflect on the adventures you've had together.
What have you been reading lately? I can't wait to hear from my friends at
Modern Mrs. Darcy
,
Jessica Chance
, the
Female Scriblerian
and more about your latest literary escapades!